11/12/2020
4222 views
Background
Starlux Airlines, a relatively new luxury-oriented Taiwanese airline, has applied to Taiwan's Civil Aeronautics Administration (CAA) for permission to fly to 15 destinations in the United States. The Taiwanese carrier currently operates a small fleet of Airbus A321neos, although it plans to use its eight Airbus A350-900s on order and 10 A350-1000s on order for its U.S. routes.
Potential Destinations
According to Focus Taiwan, the destinations Starlux has applied to serve include various mid-size to large cities located throughout the U.S. Also listed underneath each airport is the competitors who currently serve that route.
Los Angeles (LAX)
San Francisco (SFO)

China Airlines
EVA Air
United Airlines

Guam (GUM)
Honolulu (HNL)
Seattle (SEA)
Ontario (ONT)
New York (JFK)
Houston (IAH)
Chicago (ORD)
Newark (EWR)*
Washington D.C. (IAD)*
San Jose (SJC)*
Dallas (DFW)*
Miami (MIA)*
Boston (BOS)*
"*" indicates a currently unserved route.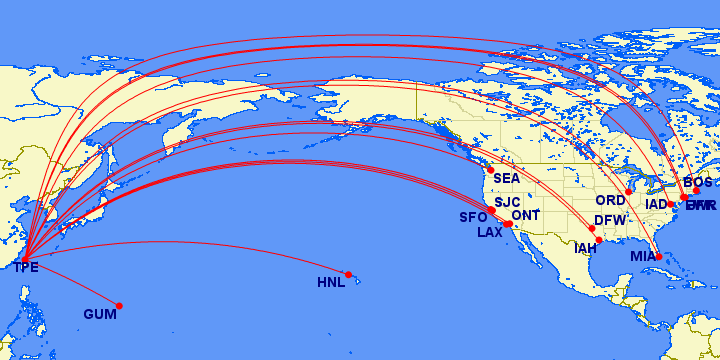 Analysis: Which ones may not work out for Starlux?
Taking into account that Starlux is a luxury-oriented airline that plans on having a first class cabin, we analyze a few routes that might not work out for Starlux.
Ontario, California (ONT)

ONT is already served daily by China Airlines. Despite the large Taiwanese population, considering that this is a smaller city, 1 daily flight (300+ seats) to Taipei is likely enough for the region. Also, Ontario is an airport that has mostly Origin & Destination (O&D) passenger traffic. The lack of connecting opportunities means that this wouldn't be a great market to expand into. Starlux would be unwise to challenge China Airlines's dominance here.

San Jose, California (SJC)

As logical as this route may sound, given that SJC is a gateway to the Silicon Valley, various airlines have tried routes from SJC but failed (Air China to Shanghai, Lufthansa to Frankfurt, etc) since San Jose is simply dwarfed by San Francisco's major global connectivity. The reality is that although many flyers who live closer to SJC would appreciate more nonstops to Europe and Asia, it's simply not hard to drive the extra half-hour to SFO. At the same time, Starlux could definitely use the lack of a nonstop to their advantage, since Taipei is a large connecting hub. This could benefit Bay Area travelers by increasing connectivity through East and South Asia in general.

Honolulu, Hawaii (HNL)

This route is more leisure-focused than others, and as a result, tends to have lower yields due to a lack of premium traffic. This route is also already served by China Airlines.

Guam (GUM)

Again, this route is very leisure-oriented and lower-yielding. Although Guam is a popular vacation destination for many East Asians, TPE-GUM is already served by China Airlines, which means there is increased competition on that route for Starlux. However, Starlux might make this route work if they use an A321neo instead of a larger A350.
Other Unlikely Contenders:
Newark (EWR)

Starlux will likely have to choose between serving EWR or JFK, depending on which alliance they might join. Since China Airlines is a part of Skyteam and EVA Air is a Star Alliance member, Starlux will probably join the OneWorld Alliance, which means that they would probably fly into American Airline's JFK base.

Miami (MIA)

Miami would be a difficult market to serve, simply based on the fact that much of the traffic to the South Florida region is leisure-oriented, meaning that there is a lower yield due to less premium travelers. Along with this, the distance from Taipei to Miami is simply quite large. Although Starlux's A350 fleet could easily fly this route, the long distance between the cities, coupled with the leisure-focused demographic of the possible customers, means that the route might be uneconomical to fly.
Do you agree with our thoughts on Starlux Airlines's prospective routes? Let us know in the comments section below!
You must be logged in to contribute.